When you are looking for outdoor dining set, one thing you want to look for is the material. I had very bad experience with cheap steel based dining table/chairs, every time it rained there was rusty water came out at the bottom of the legs.
The main reason for me to choose IKEA Sjailland is because it's 100% aluminum and rust should not happen. The style is contemporary and you can mix and match with different options. To make it less boring and stand out from my neighbors, I intentionally did not choose 4 chairs, I chose 2 chairs and a bench. That looks very modern and cool. I know it may not be everyone's style, but for those who love modern and contemporary, that's something you may want.
Overall, the IKEA SJÄLLAND dining table set is a stylish and functional outdoor dining set that is well-suited for small to medium-sized outdoor spaces. The aluminum construction and weather-resistant materials make it a durable option that should last for many seasons. Overall, the assembly was not that hard, however, I ran into a problem.
IKEA gave me the wrong screws??
There are 2 choices for the table top for this Sjailland dining set, you can choose wood finished top or aluminum. I choice the later one. However, I was having one big problem… the screws they provided didn't fit. I couldn't even drive the screws into the aluminum. To solve the problem, I used pop rivet and it worked flawlessly. For any serious DIY people, you should have the pop rivet in your tool box.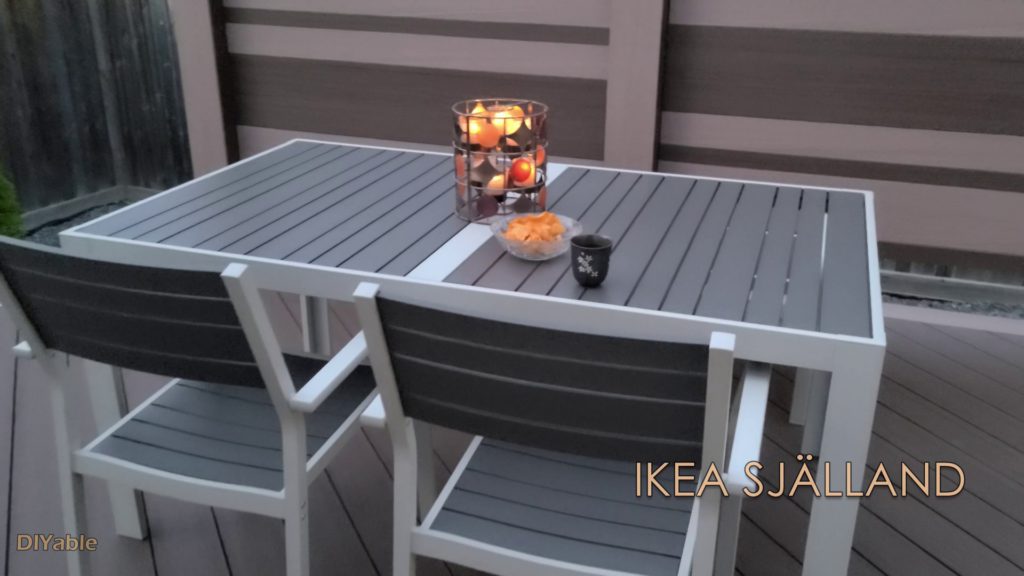 Covers needed in winter or not?
Because of the powder coating, there is no need to use cover, I left it under the snow and passed one season without any issues. IKEA put some thoughtful designs into these outdoor table and set, they put drain holes at the bottom of the legs, also the chairs are stackable with a plastic separator to prevent scratching. These are something you may want to look for if you want to look for some other brands, just a DIY Tips. Overall, IKEA Sjailland is outstanding, I strongly recommend it.
This is the complete video. If you think it's helpful, click here to SUBSCRIBE to my YouTube channel