Edited: Not to be confused with the new posts, this DIY project was done in our old house many years ago back in 2012.
We were walking at Home Depot after dinner and spotted there was a Sonata 24″ Vanity laying around (made by Canadian company, Magick Woods). We talked to the service desk and they looked at the computer saying that's a returned unit of a special order. So, what's wrong with that? If you have good eyes, you will notice on the FIRST picture of the sink, the drain hole is not totally horizontal. Well, it's not bad for minor defect if it's 50% off the regular price.
Removing Bathroom Builder's Mirror and light fixture
Similar to Removing the ceramic towel bar and toilet paper holder article I wrote a while ago, the ugly builder mirror was glued to the wall. In order not to damage the mirror (to be re-used on other projects), I used fishing line and metal wire to cut through the glue at the back. After 30 min, I managed to take the mirror down with minimal damage both to the wall and the mirror. Ugly builder light fixture removal was easy, in additional to the visible screws, there were grey color rings on each light socket. After removing those rings, you can take it apart easily.
Why do I need to install shut off valves?
Like other DIY bathroom projects I did in the past,  I insisted to cut the copper pipes and installed shut off valves to both hot/cold water – the plumbing part took most of the time.  The reason is,  I do not have to rush finishing the job since shutting off the main water valve in the basement affects the water supply for the whole house.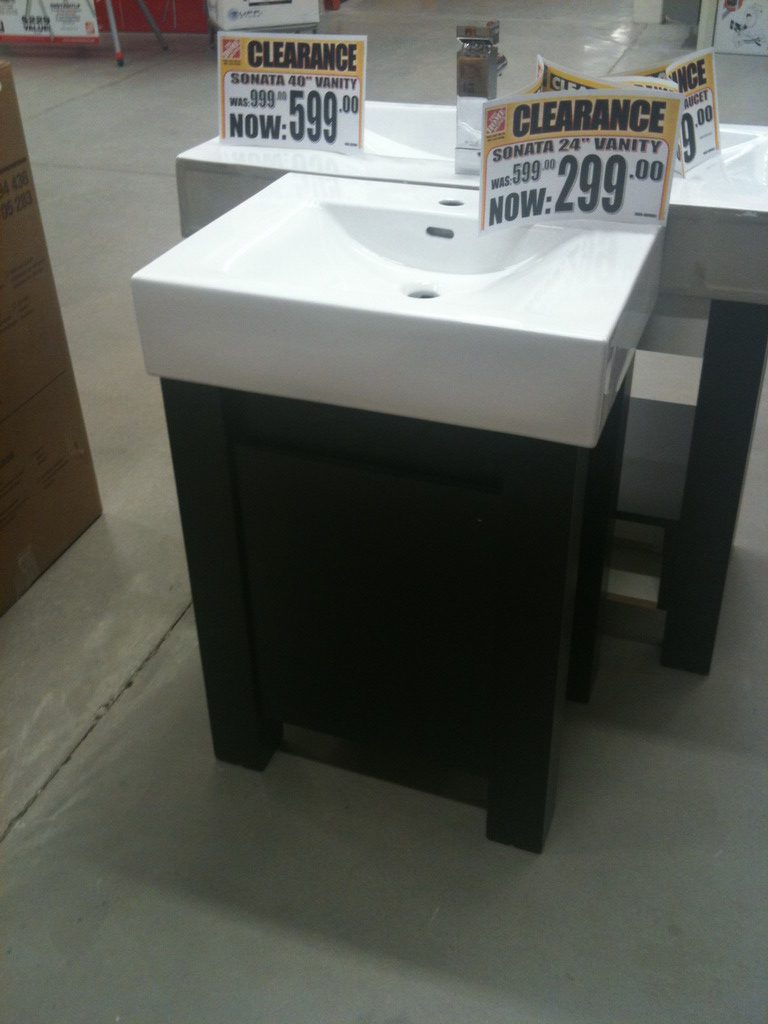 Before and After
My wife picked the color as usual and this time she chose a green color from BEHR at Home Depot. Originally, I was worried about that green but I had to trust her since she is better in color than I do. It turned out to be outstanding! Note that I used 2 caulking – white color for inside the sink, but transparent for the edge that is touching the wall. Total material cost was around $630 CAD with tax.
(Note: Most photos were taking using iPhone and only the finished photos were taken using DSLR camera)
Reference – all bought from Home Depot except Facuet
Magick Woods Sonata 24″ Vanity ($299)
Hampton Bay Light fixture ($59.99)
Mirror ($34.99)
BEHR primer-in-one paint ($49.99)
Shut off valves x 2 ($13.99)
Moen 3 piece bath accessory kit ($24.99)
GE Silicon II caulking ($7.99)
Water Ridge Faucet (Costco – $69.99)