Edited: Not to be confused with the new posts, this DIY project was done in our old house.
The guest room project has been postponed for several years, finally Deb and I got some pressure to finish it because we have friends coming over in a few months. The cheapest and fastest way to renovate the room is to fill it with IKEA products!
BEHR Premium Plus Ultra (Paint + Primer in one) Review
Before visiting IKEA, we needed to paint. In order save time, we bought a new kind of paint from Home Depot which does NOT require primer. This new BEHR paint (see references section below) actually saved us quite A LOT OF TIME and it does exactly what it claims and covered the builder's yellowish paint with 2 coats, but smell was quite strong though.
If you have read my old blogs, you knew that I used to love Benjamin Moore paint because of its thickness and I used to do 1 coat of primer + 2 coats of top coats. This new BEHR paint has the similar thickness as Benjamin Moore and it did save me so much time – I strongly recommend.
LACK Coffee table – It's too high, let's cut the legs
We bought everything from IKEA. After we assembled the LACK coffee table we found that it didn't have the proper height. Originally Deb wanted to return it, but since it was so cheap I decided to shorten the legs to give it a try. Using the precision Japanese saw, I cut around 4″ in length (in 2 cuts). Well, I didn't expect to find solid wood in IKEA products, however I didn't expect all legs were hollow!!! At the bottom of each leg, there was a 1/2″ particle wood for reinforcement. No wonder IKEA can price their products at such a low price point, indeed I have to say it's pretty smart since it's very light weight and still strong. To re-assemble the strength of the original legs, I had to move the particle wood and hot glued them back to the shorten legs.
Finally, the room's done and the cats were having fun! Now, it looks like an IKEA show room.  Update:  We bought 2 pieces of art work to make the room has an unique theme – contemporary Paris,  especially the metro map is so colorful.  (Working in progress photos were taking using iPhone so quality were quite poor,  but the final photos were taking using DSLR obviously)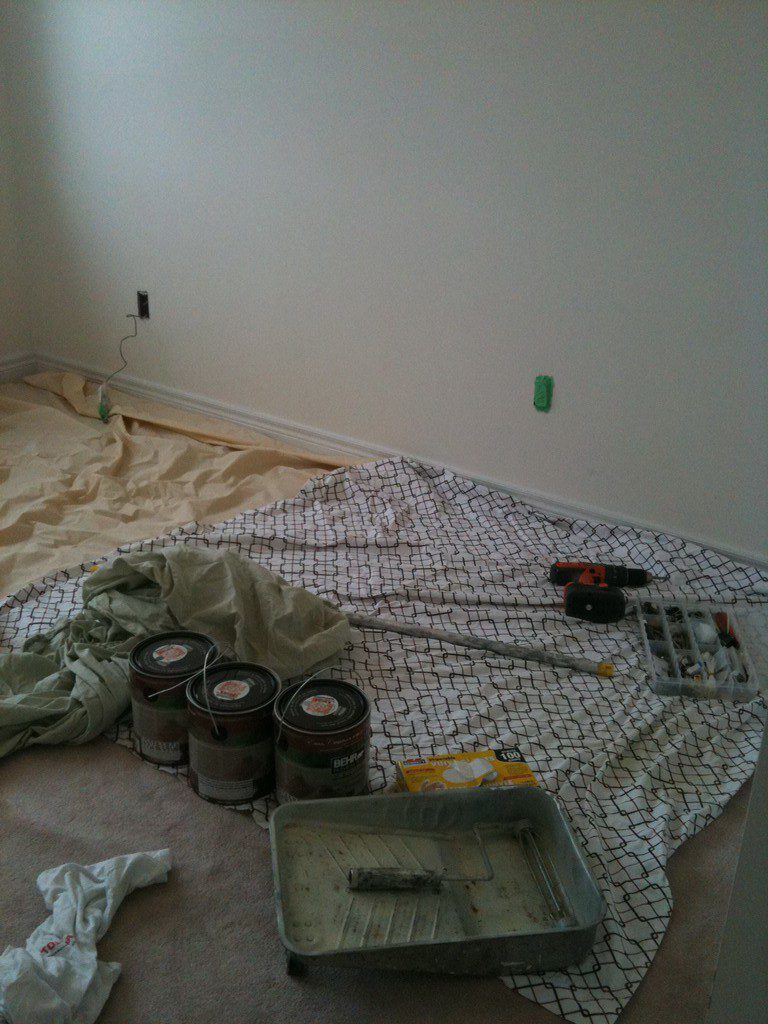 Reference: (Total spent = $1055 CAD)
IKEA TULLSTA Armchair, Ransta dark gray $99 (601.008.79)
IKEA GISLEV Rug, low pile, gray $29.99 (101.778.85)
IKEA BEDDINGE LÖVÅS Sofa bed, Edsken dark gray $379.00 (798.853.80)
IKEA Bedding cushion $39 x 2
IKEA FILLSTA Pendant lamp, white $29.99 (401.550.09)
IKEA LACK Coffee table, black $24.99 (000.950.36)
IKEA ALÄNG Floor lamp, nickel plated, white $39.99 (800.291.51)
Accent wall: 1 x BEHR Premium Plus Ultra, Base: 2753 U-260-21 Antique Tin (Eggshell) $49.99
Other walls: 2 x BEHR Premium Plus Ultra, Base: 2754 U-260-8 Perfect Taupe (Eggshell) $49.99 x 2
Paris Eiffel Tower metal work $20 (Winners/Home Sense)
Paris metro map on canvas limited edition $150 (Winners/Home Sense)
Colorful cushion $35 (Pier 1, SKU: 2537109)