My parents got a 10+ years old NOMA snowblower with Tecumseh (HSSK50) engine, it looks like in good condition. However, in the last 2 years they hired someone to do the snow removal, so the snow blower was being stored in the garage for 2 years.
PROBLEM 1: Engine does not start: I took it from them last week and I tried to start it, but it wouldn't start. (I have the pull start, not electric start). I replaced the fuel, checked engine oil, checked the choke, pushed the prime button… everything seemed to be normal, but it just wouldn't start even after 20 pulls. It's summer now, if it cannot be started, there is no chance in winter time.
Solutions from the Internet
First I went to Tecumseh official web site (Noma and Snow King are using Tecumseh engine) and downloaded the user manual for trouble shooting guide. Of course, it didn't help at all. It tells you visit the authorized dealer, screw that.
Then I found a forum on Internet and those experts were extremely helpful. They said "The carb is probably gummed up from sitting two years without being winterized. It most likely has varnish build up from old gas. Replacing the spark plug is a good start. But what you would most likely need to do is a carb cleaning. While you're at it, change the oil as well."
How to locate the carburetor on HSSK50 engine?
Based on the advice from the expert in the Forum, first I located the Muffler where it is sitting on the heater box. Then, I removed couple of screws on the box and the saw the carburetor.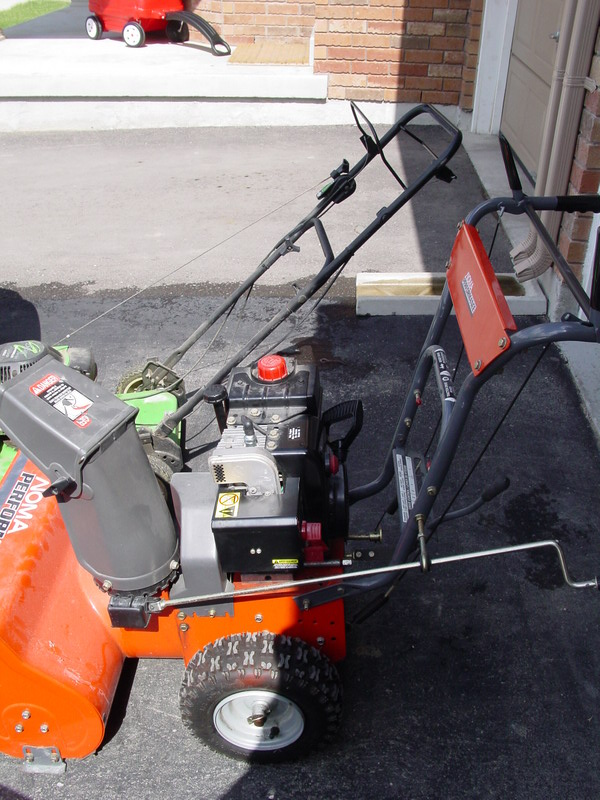 Expert from forum suggested, quoted "On the bottom of the carb, there should be a bowl with a nut and screw in it. You can take this nut out and there will be 2 (I believe) tiny holes in the side. These often become blocked from sitting with stale gas. Blow compressed air through them, or spray carb cleaner and poke a small wire through."
For me, I didn't removed the carb. But I accidentally touched the drain (with spring) under the carb (See the last photo above) and some dirty black fluid came out (Dirt build up after 2 years?). After that, some gasoline smell fluid followed after.
Engine Started finally – with new Spark Plug and Carb drain
The user manual said I have to use Champion (RJ19LM), however when I talked to the local lawn mower repair shop, the lady said they only sell NGK (BR2LM) and she guaranteed it would work or I could get money back. So I trusted her. BTW, I told her my problem and she said they would have charged me around around $60-$100 CAD to fix it.
With the new spark plug and then I tried to start the engine, BINGO!!! it worked with A LOT OF SMOKE!! I saw some spark/flame coming out of the muffler, and then it became stable. I let it run for 10 min.. seemed to be okay. Here is the summary of service I did on:
– Replaced engine oil with Mobil 1 Synthetic (5W30): Extra bottle from my car
– New spark plug NGK (BR2LM) required gap is 0.030
– Carburetor drain (just got rid of the black dirty fluid)
– Fuel system cleaner
– Sprayed carb cleaner (while it is running)
– Added fuel stabilizer for the summer: Let it run for 10 min
PROBLEM 2: Engine started DOES NOT mean it's working properly
Although I got the engine started, I noticed something strange. The choke (metal plate valve) has to be closed in order for the engine to run, if I opened the valve and the engine stalled. Even I ran it for 10 min, when I started to adjust the valve to let more air in, the engine stalled. That's not normal. According to expert on the forum, quoted "What will happen when you go to throw snow the unit won't perform or will stall out. The choke should be open when properly tuned."
SOLUTION: Clean the Carb
First, I used the pump to drain the gas. Then, I used a vice grips and a screw driver to took apart the choke plastic handle. This let me get more working space to the carb by removing the metal box. On the bottom of the carb, there is a "Bolt" which is main jet of the carb. I removed it and used both carburetor spray cleaner and compressed air to clean it, making sure air could pass though all 3 holes. Carb cleaning solved the problem!! Now, the engine could run in full speed with the choke fully open.
Self Reference
Brand: NOMA, Engine: Tecumseh HSSK50
Family: XTPWS 1951BF, DOM: 9256
Spark Plug: Champion (RJ19LM) or NGK (BR2LM) – required gap is 0.030
Tecumseh Electric Starter Kit 33290E (optional kit)
Spark Plug Replacement
Further looking into Internet, I found that there are 3 brands of spark plugs are interchangeable that fits Briggs and Tecumseh engines. NGK (BR2LM), Champion (RJ19LM) and Denso (W14LM-U) are all the same!