After working on my own DIY front yard Part 1/2 – Porch makeover and Part 2/2 – Walkway and landscaping, I have tons of leftover materials from these two projects. So, I decided to help my neighbor to do their front yard.
Mixing Techo Bloc with Permacon
There are 2 kind of pavers I had leftover from my previous projects. You WILL NOT BELIEVE one is called "Grey" and the other one is called "Champlain" and they look 100% alike!!! Even the texture on the surface of the stones are the same. They DO NOT have the same height, but who cares.
Permacon Slab Mondrian 60 Norvick Grey (2 3/8″) – Majority of the walkway
Techo Bloc Venetian Riser Champlain (1 3/4″) – Cut each in half for border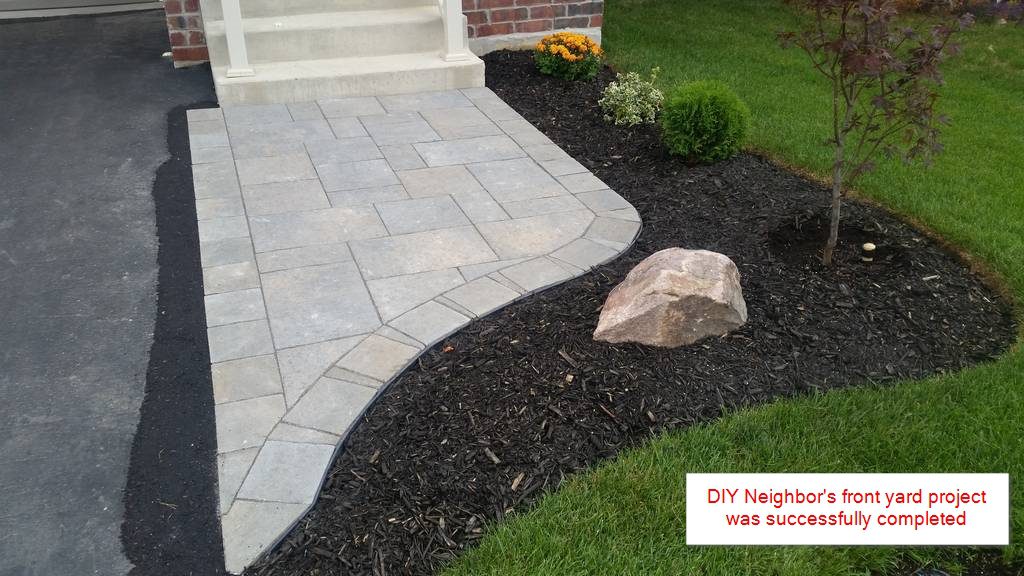 The Process
Similar to my own front yard project, I used Bagster to get rid of the dirt. One person as usual, but hand excavation was little bit tougher because it's in Aug/Sept, some part of the clay was as hard as a rock and I had to use pickaxe. For the base, I used around 1.5 tons HPB (High Performance Bedding). Again, it's leftover. The rest is really self explanatory as I have added comments in the photos.
Room for improvement – Prove my average theory
Room for improvement is the curve. As you can see (1) the edge on the right hand side was not that smooth. Also, (2) I could have cut some of the rectangular pavers into trapezoid so it made the border on the edge look more balanced at the bottom part. Indeed, these two issues DID NOT EXIST on my own front yard DIY project. But non-professional or non-picky people won't even notice the minor flaws. This is the same principle applies to wedding photography as a business, you don't need to be a fine art or award winning photographer in order to make money because AVERAGE customers don't see or don't even notice these flaws, all you need is to provide an overall decent results better than your AVERAGE competitors. The key word here is "Average".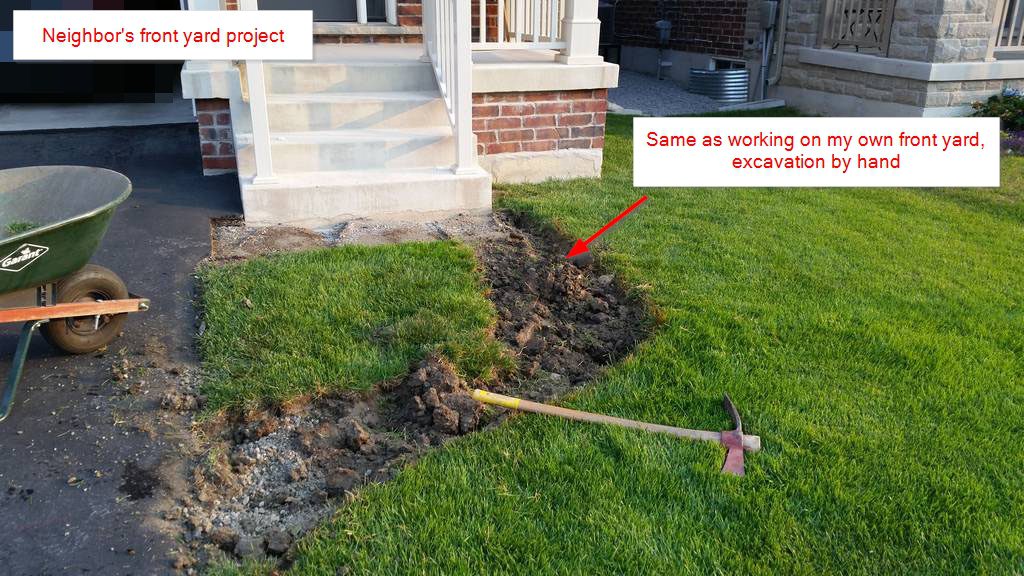 Conclusion and Time spent
Level of difficulty: 2.5/5
It is relatively easy compare to my own front yard, for this project I am doing it for my neighbor so I kept the design simple. Most importantly the pavers are rectangular, which is very easy to work with. I only spent total 4 days (one person) on the whole project. Compared to 2 months on mine due to the shape/weight of Permacon Rosebel as well as my complicated design.