Recently, YouTube or MetaCafe are flooded with videos teaching people how to open locks using 2 commonly used techniques: lock picking and lock bumping. Lock picking does require some practice, but on the other hand, lock bumping is so scary because it doesn't require any skills at all. Anyone can create a bump key from any old key and open the front door most of the houses without leaving any trace. Try to search on Google and you will be SHOCKED. It has been reported on NBC and other major media.
To protect our home and family, I started to do research on high security lock. I looked into Medeco, Abloy, Mul-T-Lock and Weiser/Kwiket Smart Key. I am not an expert, but from common sense and the power of Internet, that helps me to decide which brand to buy.
1. Medeco Maxum Captive
Medeco has been used by many government facilities and public transportation, and it is considered to be one of the best locks out there. I visited 2 authorized dealers in Toronto, the price of Medeco product starts from $180+ CAD and Maxum Captive is around $375 CAD. The Medeco Captive is a double cylinder lock with thumb-turn which can protect against breaking glass and trying to open the knob on the inside.
My analysis:If you understand the basic principle, Medeco's design is based on pin tumbler locks. So, it DOES have springs and pins meaning it is vulnerable to lock bumping in my opinion (You have to understand how lock bumping works). Although Medeco special angle cut key and rotating slider supposedly can prevent from picking and bumping, Defcon hackers used a paper clip to bypass the slider in mid 2007, this raised my concerns. See links below:
2. Abloy Protec
After doing more research on the Internet, I visited another local dealer. The price of Abloy Protec is around $350+ CAD (depending on color/finish), it has the same protection against breaking glass and trying to open the knob on the inside.
My analysis:Abloy's design contains NO springs or pins, it is based on rotating discs and special angled cut key. From a security standpoint, disc tumbler lock cannot be bumped. Well, I wouldn't say it is not pick-able because I believe no lock in the world is perfect. Download the Abloy PDF from TOOOL (links below), and you will be amazed by the design.
3. Weiser/Kwikset SmartKey
In Home Depot, you can find a new product introduced in 2007 called "Smart Key" from Weiser/Kwikset (they are the same company owned by Black & Decker). It is advertised that to be pick-proof and bump-proof. The innovative part is that you can reset your lock cylinder with a new key as often as you like, and you can have one key to open all locks in your house. Great concept.
My Analysis: The design is not based on traditional pin-tumbler, it is based on Wafer Tumbler lock. It does have springs and guide pins with a side locking bar which makes the lock becomes pick-proof and bump-proof (watch the video on Kwikset site, it has detail diagram). However, the key is still a regular key with no specific angled cut, it can be duplicated in any hardware store. Also, the part I am worried about is the ability of re-keying using the lock itself, I would be more comfortable without the re-keying feature.
Updated in 2009:Indeed, after 1 year of writing this article, it is not hard to find information and videos on Internet on how to decode and lock pick Kwikset SmartKey.
Updated in 2011: Correction made. I originally referred this as "disc tumbler" when first wrote this article. However, it should be "wafer tumbler". The most scary part is, many locksmiths can help you open your SmartKey door if you lost your key because they have the bypass key or tool. I believe that's the flaw of the re-keying feature, I am not sure but it's scary enough not to use the lock.
4. Mul-T-Lock and Super-T-Lock
Mul-T-Lock is an Israel company and it is very popular in Asia/Europe. Indeed, there are many clones, for example a product calls "Super-T-Lock" (made in China, of course) can easily be found during my trip to Hong Kong/Japan last year. Note that their marketing is very smart, not only their name is so similar to "Mul-T-Lock", also they put "Germany" at the back of the package. They didn't say it is "Made in Germany", this is a common Chinese marketing trick that they really have a company registeredin Germany but without doing any real business over there. Although this is not real Israel Mul-T-Lock, but with 1/3 the price I can get something that is not easily bump-able/pick-able, why not? It is better than any regular locks that you can find in Home Depot. I just bought this for fun.
How does Mul-T-Lock work? Quote from their web site "These high security cylinders have a unique telescopic pin tumbler mechanism using external and internal pins. The external and internal shear lines have to be aligned so the plug can rotate. When the top and bottom pins, plug and body meet, a three-dimensional shear line is formed to create a spherical shape." These kind of locks are called "dimple locks", because the key got a lot of indentations.
My Analysis: The design sounds innovative, but similar to Medeco it shares the same problem. It uses pins! I have a problem with this. Not surprisingly, I could easily found Mul-T-Lock picking and bumping resources on Internet:
Professional Locksmith Tools:
DealExtreme (DX) has been always my favourite place to buy DIY parts and Gadgets, in recent years they started to carry more locksmith tools. It's free shipping and directly shipped from Hong Kong, bypassing your local laws if wanna buy some illegal items. Pricing wise is way better than eBay.
Conclusion

Medeco Captive: 6 pin tumbler with springs and pins with slide bar + angled key cut + protect breaking glass opening from inside
Weiser/Kwikset SmartKey: 5 wafer tumbler with springs and wafers + locking sidebar + regular key cut
Mul-T-Lock:7 pin tumbler with springs and pins, using external and internal pins forming 3D shear line + mul-t-lock key cut
Abloy Protec: 11 discs with no springs and no pins + angled key cut + protect breaking glass opening from inside
As you can tell, the winner is pretty obvious. I ordered the Abloy Protec.
Lock Arrived: Abloy Protec ME155

The lock arrived today but there is no installation guide or user manual?? WTF.. Maybe they wanted to see if I am able to do it and they must have assumed most people will go back to them so that they can charge $60 for the installation. Sorry, that doesn't work on me.
(All photos were taken using the my old point-n-shoot Sony S85 camera, no DSLR for project photos)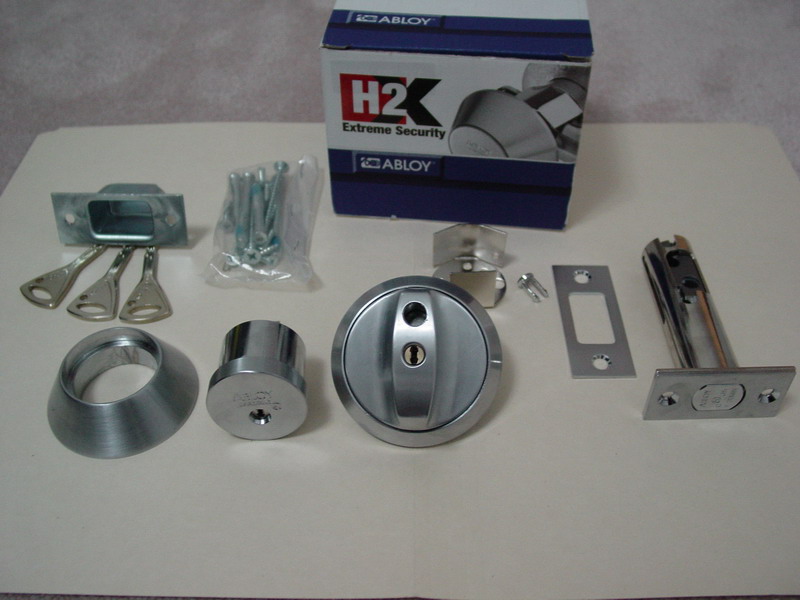 Abloy Protec ME155 Installation
The authorized dealers didn't give me any installation guide or user manual, and I couldn't find it on Abloy web sites (none of them available for download). Well, with some understanding of basic lock, it wasn't difficult at all.
Model: Abloy Protec ME155 (Lockable Thumbturn H2X Deadbolts)
Finish: US26D Satin Chrome
Cylinder Code: CY413
Bolt Code: LC801 – Adjustable Standard Bolt
First I removed my old Yale double cylinder. Next, I took the dead bolt apart in order to extend the length to 2-3/8″ to fit my door hole. Tips: there is a small button you need to push at the bottom.
The lock comes with breakable tail piece for different door thickness, so I had break the tail part using pliers. All I had to do was to make sure both tail pieces could make the bolt turn and at the same time not touching each other. Tips: It is very helpful to hold the both sides against the door to determine how long do you need to cut.
The installation was easy but took me several hours. If you don't have the right tools probably it will be easier to pay someone to do it.
Why is Lock Bumping/Picking so scary?
Because it leaves no trace, and Insurance companies can reject the claim because virtually there is no sign of breaking in.
Brute Force Attack on Abloy Protec – By Drilling
Updated in 2009: Abloy is not bullet proof, it can be attacked by brute force drilling just like any other locks. A German company released a very nicely engineered tool, with the perfect diameter that cut through the Abloy disc cylinder. It can be done because Abloy's cylinder hardened steels isn't the hardest material on earth (diamond is), so it is possible to cut any hardened metal with another harder material on earth.
Watch the video on YouTube (link below), you will be amazed by how fast it is. The tool is specifically designed for Abloy Protec, it cuts through the hardened steel plate and cylinder. Although the video shows the Abloy core cylinder, I bet it will work on H2X series Deadbolts.
The tool is not cheap (around $100 Euro), I think Made in China version will be on Internet soon. But it's very cool to see the video and link:
I am really not surprised any lock in the world can be defected by brute force, if there is a specific tool made for the specific lock. A tool that is brazed with carbide tips thatcan cut through hardened steel is a known fact in the tool industry. On the other hand, you can get an angle grinder from home depot with cut-off discs and you can easily cut any hardened metal in pieces.
Decoding Abloy
On technically side, I would be amazed to see the Abloy Protec lock being picked. Although I haven't seen any video yet, on the forum, I found a tool called "Falle-Safe decoding tools" that claims can decode Abloy locks. Well, I don't think it is as easy as bumping/picking, but I do believe it is possible technically.
Build a better lock – Open Source
Just like software industry, the lock community started a project "The Open Source Lock", anyone can contribute. The project's goal is to develop a quality, high security lock. I really love this idea. In my opinion, pure mechanical lock has its vulnerability, you have to combine with more high-tech technology to fill the gap. For example, to combat brute force attack, you can add a vibration/impact sensors on the lock that hooks up to the alarm system. Or, you can simply add RFID chip to the key.
Force Entry Prevention – Door/Wood Splitting
Standard doors and door frames in North America cannot withstand brute force kicking at all, which is an effective way for force entry. The technical term of this failure is called "wood splitting" – when force is applied on the door, your deadbolt is strong enough to hold the pressure but the steel plated door and wooden frame do not, that causes the wood to split.
In additional to dead bolt protection, it is recommended to enhance the door frame security replace the existing strike plate with a high security one, and also to add the deadbolt steel reinforcer plate before installing the deadbolt.   For extra high security, you can extra 2×4 to the frame  or even having steel beam to support to prevent force entry.
Update in 2014 – Replace Abloy bolt with Mul-T-Lock (Hybrid)
After using the Abloy for 6 years, a spring inside the deadbolt was broken. It was caused by a guest visiting my house who didn't know how to use the lock properly (perhaps the latch wasn't perfectly aligned with the bolt in the first place). Well, the deadbolt got stucked and it took me some time to take it out.
When I was looking for replacement online, I learned that Abloy only sells their products it to the authorized dealers. Although I could have gone back to my dealer to fix it, I came across Mul-T-Lock deadbolt and actually it is a replacement for Abloy. The COOLEST part captured my attention was the "Anti-Pulling Ball Bearings Mechanism" (see photos) with a Mul-T-Lock special designed strike box. When the bolt is extended out of the lock the ball bearings at this stage is flexible and they are being pushed out and sits into the indents of the strike box. Once the bolt is fully extended, at this point the bolt locks the ball bearings to prevent any movement. It adds additional layer of security!
I ordered it from Bay Area Lock, Part No. "MLT-BOLT" (Expanding Bolt for Abloy). I just realized Dennis McEntire (owner of Bay Area Lock) actually left a comment on this article in year 2010. LOL!!!!
Update in 2016 – Helped a family member to install Abloy Protec 2
In 2016 a family member asked me for help on high security lock, so I ordered one and installed for him. As you can see in the last few photos, Protec 2 has a new design incorporates a floating ball in the key blank. The disc controller cannot rotate if no key is present. Cool design! I am happy with my version 1 and there is no need to upgrade.

References: