My wife bought a Nissan Leaf, that's how this project got started. I had to put other DIY projects on hold and worked. It was not too difficult if you have worked on electrical related projects. If you have not, I recommend you to hire a professional electrician.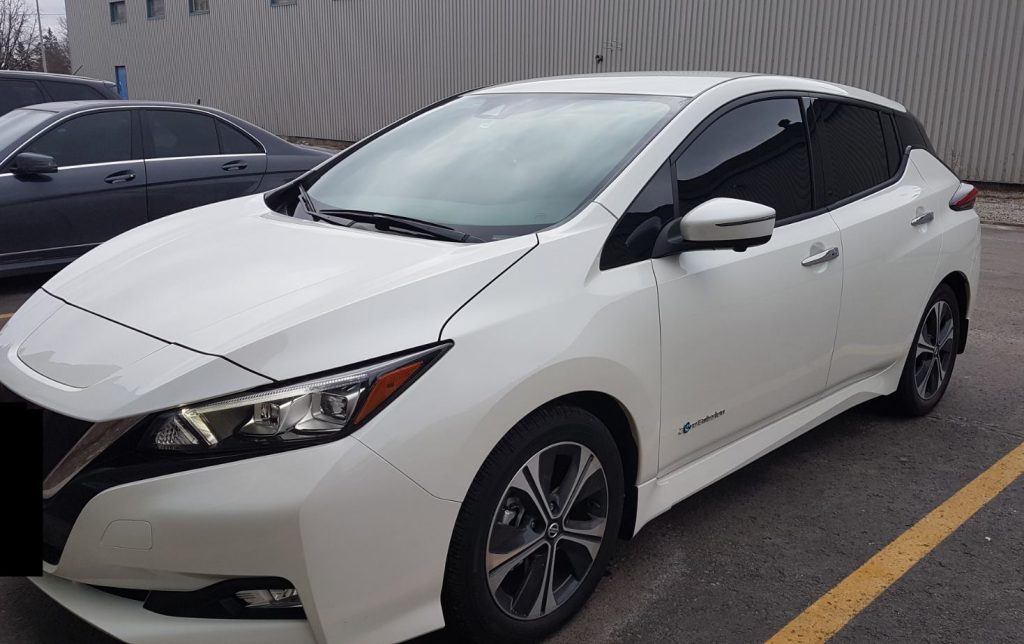 80% Circuit Breaker Rule – NEC Sec. 384-16(c)
The car comes with a 240V 30A (6.6Kwh) Genuine Nissan portable charger with a 14-50 plug (dryer), because this is "continuous loads" the 80% breaker rule applies. According to code, you need a circuit breaker of handling 80% of the load. Therefore, 80% of 40A breaker is 32A which is perfect. To find the matching cable, I needed NMD90 8/3. Please note that Canadian wires and American wires have different amp. rating even they are temperature rated for 90 degree. To exceed code, I installed a 40A GFCI breaker (in case of water splashing in garage) as well as a heat detector because we do unattended overnight charging to take advantage of our Hydro plan (we only pay $0.02 CAD Kwh from 12AM to 6AM). Never use smoke detector in garage, Google it for more information.
Does this work for Tesla? (Updated this in 2022)
YES, absolutely. Model 3 comes with "mobile charger" which is rated 32A and it has a 14-50. Please see this video I made in 2022 for our new Tesla Model 3. I used the SAME 14-50 setup, no changes. You can also buy the J1772 adapter for other 3rd party chargers if you don't want to use Tesla mobile charger. But it will NOT work if you install other Telsa Wall charger drawing more than 32A, you may need 6 AWG cable or even thicker cable. For example, Tesla Wall Connector requires 100A breaker and it draws 75A.
Does this work for other EV besides Nissan Leaf?
For cars that supports universal SAE J1772 connector with NEMA 14-50 plug, that should work, not limited to Hyundai Kona/Ioniq, Chevrolet Volt/Bolt EV, Hyundai Kona/Ioniq, Kia NIRO, Tesla, Toyota Prius Prime, BMW i3 and Honda Clarity
Why cut drywall? Why not exterior electrical RV outlet box?
In Canada it is EXTREMELY difficult to find the electrical box for 14-50R in local hardware store and Amazon Canada doesn't have that either. I didn't have time to look, the grey color box was the ONLY one I could find unfortunately. Yes, you can either buy an exterior grade electrical box (such as RV outlet box) without cutting the drywall, but then the Nissan charger will be sticking out quite a lot. It's up to you, my way involves way more work but the end result is more elegant since it is flush with the drywall. Honestly, if you can find the right parts, you may not need to patch the drywall.
Did we get the rebate on the car?
Yes, $14,000 CAD (Doug Ford cut this in 2018, no more!). In 2020, the rebate for Ontario is $5,000 CAD.
Did we get the installation rebate?
No, DIY Installation with no inspection so I am not eligible for rebate. You can get ESA inspection on your DIY work then apply for the rebate but it's a waste of my time.
What is that grey color PVC conduit for?
The PVC conduit has nothing to do with this EVSE charger installation, the receptacle is 120V 20A and I ran 12 awg THHN/T90 equivalent cables inside the conduit for my Lincoln 140 welder and the Evolution 12″ concrete cutter. At that time I didn't want to patch the drywall and now adding the heat alarm there makes sense.
Why do I have a sub panel?
This was the project I did in 2015, check this out: DIY 240V Sub Panel Siemens EQL8100D Installation in Canada (Tesla or Hot Tub?)
Do we need GFCI for garage in Ontario?
According to Rule 26-710. Ontario Electrical Safety Code, only carport needs GFCI. A garage does not, garage is defined as 60% total perimeter enclosed by walls, doors, or windows, and this enclosure don't need GFCI. But exceeding code is always good practice.
Is the main service panel 100 Amp or 200 Amp?
100 Amp only. Just don't dry clothes (30A), turn on AC (30A), roast a turkey (40A) and charge the car (40A) at the same time! Since we use the timer to schedule the charging from 12AM-6AM, this is absolutely no necessary to upgrade to 200 Amp.
Disclaimer for DIY: This article is for reference only, hire a licensed electrician if you are not comfortable. You can get killed or burn your house down if you do not know what you are doing. But I strongly recommend all the serious DIY people should do it themselves, then get inspected by ESA.