Nest vs Honeywell WiFi
In 2013 we moved to a new house and the previous owner didn't upgrade the builder thermostat, it was one of the top priority to get a better one, Nest and Honeywell WiFi captured our attention. After reading the reviews online, the decision was pretty simple – If you are iPhone/iPad/Mac person, buy Nest. If you are Android/Linux/Windows person, buy Honeywell.
DIY Installation
The installation for both Honeywell WiFi thermostat and HE280 humidifier were not that difficult, but as I am not an HVAC person, that took me quite a bit time to do that. You have to understand the 4 vs 5 wires, as well as their function (Y, W, R, G, C). Both Nest and Honeywell have the commonly asked "C" wire question, Google it for information. For me, I had to buy a brand new 18/5 cable and re-wired it. The rest is pretty self explanatory in the photos, good luck.
Honeywell HE280 humidifier + Goodman GKS9 = Double pressure switch?
For our Goodman GKS9, I had to wire it to the furnace pressure switch. There are other ways to connect, but I just followed whatever the manual said. HE280 indeed comes with a build-in pressure switch too, so there are 2 pressure switches. Well, it's okay honestly speaking, it's better than using the external 24V transformer. There are some bad reviews on Homedepot web site because people are complaining wasting water, but this is "flow through" type, do your research before you buy. In my opinion, I look for efficiency and it does it job. Just like you buy a V8 sport car, you got the power but then you complain about the gas price – people are so ridiculous.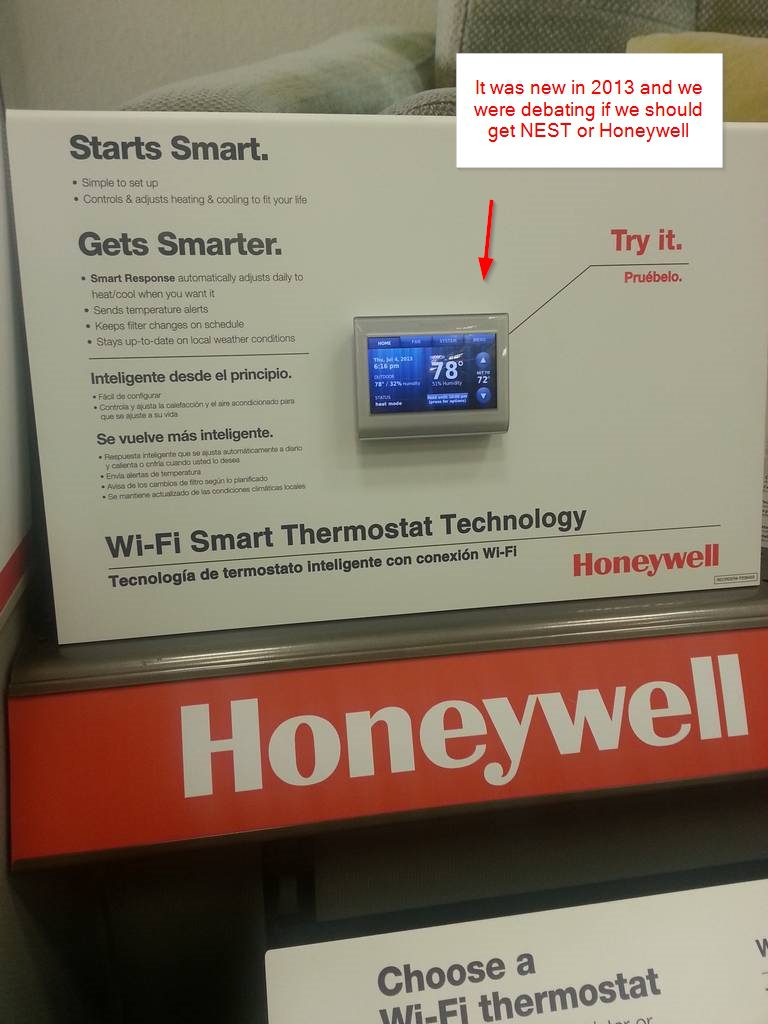 Setup Notes – IMPORTANT
Every home is different, when you setup your Honeywell WiFi thermostat, pay attention to what you select. If you select wrong system, you will experience unexpected behaviors and it can damage your furnace. I tried to play with these combination, it turned my fan on and off in strange cycle. For me, I have the following for reference:
Model: Goodman GKS9 1 Stage high efficiency Furnace (Gas)
Type: Force Air (120V blower)
(A) System Type:
Forced Air (default) – (selected)
Heat Pump
Hot Water or Steam
(B) Forced Air System:
Gas/Oil (default) – (selected)
Electric
(C) Efficiency of heating system
Standard Efficiency Forced Air (default)
High Efficiency Forced Air (selected)
Why did I disable WiFi?
The WiFi part is actually is the worst in terms of Privacy and Security. It doesn't come with any build-in web server! In this case, I cannot control my temperature if I only have LAN access. I cannot believe that it tries to ping Alarmnet every 10 seconds to check for setting changes. Yes, it makes life a lot easier for non-technical people without opening port on router, but do you know this is an extremely high security risk and when you do this on the cloud. Firstly, all your daily schedule will be stored on their server, I suggest everyone to create a fake address on AlarmNet profile, in case someone hack into their database, they go break into the wrong house, not yours.
Secondly, if someone can do the Middle-man-attack or take control of AlarmNet web service, they can write a script to adjust your temperature in middle of the night (fun!) or instruct your blower to turn on and off similar to "Belkin WeMo" security flaw – a hacker can write a flip the switch at a very fast rate, which cause electrical fire. Exactly like Chamberlain internet gateway, good luck to those who are using it. I have disabled my WiFi after the update, well, it's just a pretty UI on the wall.
Again, with scheduling enabled, how often do you need to change the temperature using the App remotely? I don't get it. We bought it because because we need to upgrade and we love the LCD touch screen, not because of WiFi.
Level of difficulty: 2/5
Update – 2017 August
Using for almost 4 years, I still strongly recommend the Honeywell WiFi thermostat. Yes, I have WiFi disabled since day one after initial update and it has been solid stable with the following firmware updated back in 2013.
Model: RTH9580WF1013GG
Software Rev: 01.04.01.00
Application Rev: 01.00.11.00
Configuration Rev: 04.00
Radio Revision: 01.07.00.00
Date Code: 1327