The builder gave us some ugly ceramic towel bar and toilet paper holder, we decided to remove them and get the chrome one. It is interesting that I couldn't find a lot DIY information on this topic, so I decided to write one up to help other people.
How to remove the ceramic towel bar and toilet paper holder?
Those cheap looking (indeed they are not cheap) ceramic fixtures were GLUED to the drywall, believe it or not – no screws or nails! So, hammer it using chisel or a big screw driver will work. I am not sure if I applied too much force or the they put too much glue on it, when I removed the left hand side towel bar, I left a big dent on the wall. However, it wasn't too hard to fix. Just tape it with heavy duty fiberglass mesh will fix it. It's drywall, how hard can that be?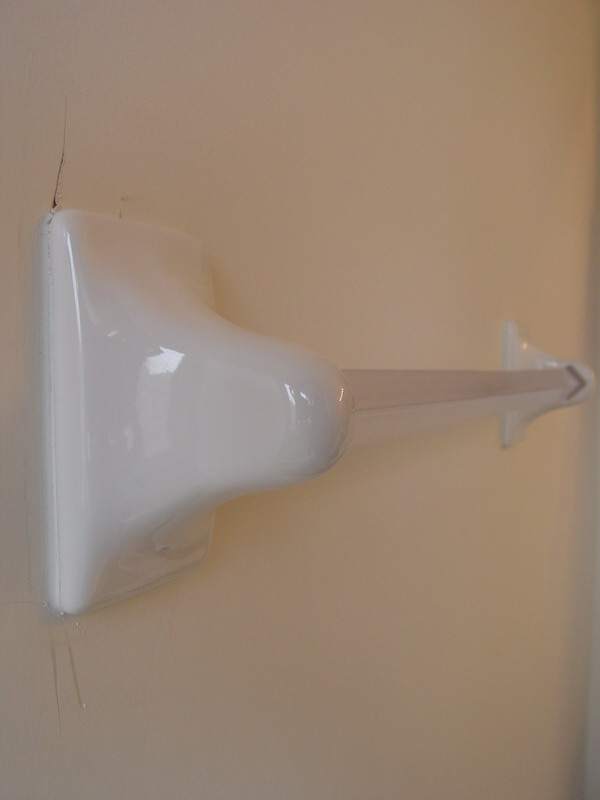 As you can see in photos, the other side of the towel bar and the toilet paper holder was much better. I didn't even have to use the heavy duty FibaTape. I just used the regular fiberglass mesh. Tips: Do not use paper tape unless you are professional, use Fiberglass mesh instead. The reasons (1) Moisture in the drywall compound makes the paper become soft and you won't be able to work with it. (2) When it comes to the sanding part, paper tape will form some rough surface if you are sanding too deep. (3) Fiberglass is stronger than paper, yet more expensive of course.
Patching, Sanding and Painting
I used the CGC dust control drywall compound, and you do need 2 basic drywall tools to do the job. After 24 hours of drying, I sanded the wall using drywall sand paper (Rough) and then lightly re-applied drywall compound to fill out some uneven area. The next day, I used a sanding block (Fine) to obtain a smooth finish.
Sanding Tips: Use a sanding block (FINE) with light pressure will get a very smooth finish on the wall. Rough sand paper takes away too much drywall compound too fast, it's not easy for DIY users.
Painting Tips: Do not use BRUSH unless you are professional. Always use roller if possible, because brush leaves brush marks on the wall (unless you buy a $20 brush). Generally, use brush only on the edges where roller cannot be reached.
Installing the chrome fixture
We got these chrome towel bar and toilet paper holder from IKEA. Well, my comment is: You pay for what you get, it's not as strong as I expected. At least they look better than the ceramic and plastic towel bar. Tips: If you buy a new house, ask the builder NOT TO install those ugly ceramic towel bar and toilet paper holder. Then you don't even have to even read this.