Edited: Not to be confused with the new posts, this DIY project was done in our old house many years ago back in 2012.
After 7 years, the old carpet on 2nd floor from the builder was getting a bit out of shape and not as easy to maintain. So we decided to replace it with either hardwood or laminate flooring. After shopping for a while, we decided to go with Bruce hardwood because it is Made in U.S.A and not in China, this is very important because we don't want our cats to get in touch with some unknown toxic chemical.
Engineered hardwood vs Solid hardwood vs Laminate
We chose Engineered Oak hardwood over laminate because we wanted to have a smooth transition from the main floor hardwood where the color and texture matched perfectly. The type of engineered hardwood we chose was using "click-locking" or "click-n-fold" (similar to laminate), so I did not have to rent or buy the expensive nailer. The reason was that I couldn't finish the project in 2-3 days like the professional with a team. I got full time job and I was the only person to do it. At rental $50/day, the nailer was too expensive to rent and wasn't worth to buy either ($600 for a decent one that won't jam the nail – I did all the research). With 15% off at Lowes, we loaded our cars with the boxes. We had 4 bedrooms and a hall way to cover and the project took around 4 months. I added some description on the photos to help the other DIY people. Remember, make it right!
Note that on one of the rooms, the coaxial cable, Cat-5e cable and external box were there many years ago, I had no plan to re-wire it properly and install the jack on the wall.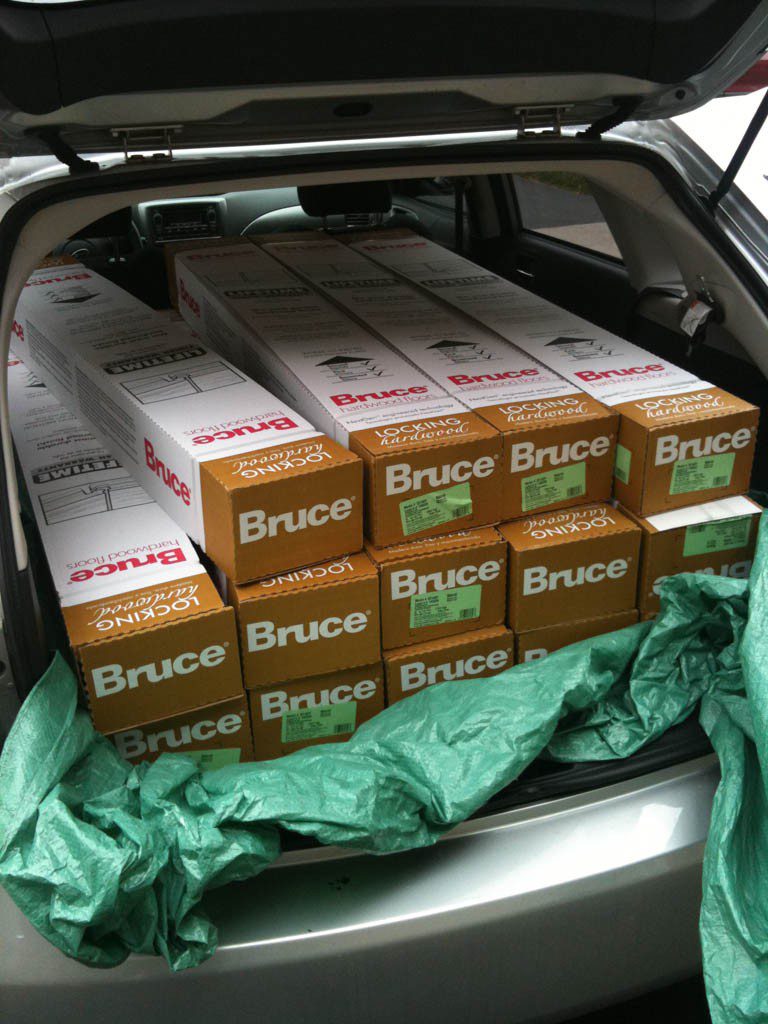 Don't trust videos on YouTube
There are a lot of videos on YouTube that gives you incorrect information on installation. Many of those so-called professional (although they look like one) really lack of skills and have no common sense. Use your own judgement and read articles and watch videos from sites with reputation. Do proper research before starting.
Overall Difficulty: 4/5
Most challenge: Fitting the planks under the door jambs because it required precise calculation. Also, moving heavy IKEA PAX by myself without any help was pretty challenging
Most annoying: Prepare, level and clean the subfloor
Time taken: 4 months – I have a full time job, I worked weekend only + 1 week off. Our house is 1800 sq.feet, but the area we did the installation was around 650 sq. feet
Total material is around $3000 CAD (roughly only because we lost the receipt). Here is the rough break down:
$2000 CAD E2100Y Bruce lock and fold hardwood
$600 CAD underlayment
$60 CAD for 2 x T-mould
$400 CAD Quarter round, tapping block, hammer, spacer, finishing nails, saw blade and related tools
Conclusion and Verdict
Bruce makes very good flooring product and we are very happy with the result, we are so glad that we got rid of the carpet. Since the engineered lock and fold floor is considered as floating floor (no nail or glue), you have to expect when you walk on it, the sound is not as solid as solid hardwood. No matter how level the subfloor is and the plank itself may not be always perfectly flat, so there are some area would move up and down when walking on it (Google it or read the forums). NEVER and DO NOT attempt to apply nail or glue to fix that, because it needs to expand and move sideways, that's why it called "floating floor". With this experience, next time I would try to conquer the solid hardwood.